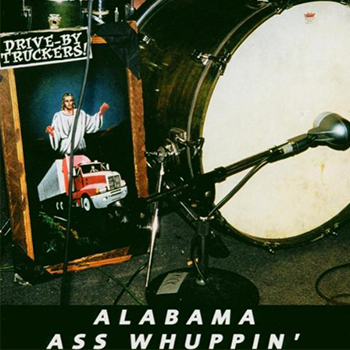 Alabama Ass Whuppin'
Live and Loud Way Down in Georgia, 1999
recorded LIVE in Athens and Atlanta fall 1999
(2000 - Second Heaven Records, rereleased 2002 - Terminus Records)
OUT OF PRINT
Drive-By Truckers 1999 - Live and Loud in Georgia
Welcome to ALABAMA ASS WHUPPIN'. Somewhere on the album is a definition of what the term means. I still don't know if it's a real term or something Cooley made up in a rambling incoherent roar, but it was catchy and everyone laughed. More than anything, it just seemed to sum up what we were doing and how we were doing it. We grew up loving punk rock and even though our band has always veered all over the place stylistically, I have always thought of us as a punk rock band at the core. Touring behind our second album, for two years we lived in a van, slept on people's floors and played really loud fast shows (often in shitty dives). We'd pull into town, usually well after sound check and right before show time, throw our gear on stage and tear it up.
We played cheap copies of Gibsons through beat up amps. We didn't own any road cases and at one point, Cooley's pointy Explorer copy didn't even have a case. (he wrapped it in a dirty blanket). We'd sell our t-shirts, two CDs and one 45s from the stage, make an announcement asking if anyone would let us sleep on their floor, and lay it down. Bottles were passed around, bar tabs were run up (and usually left unpaid, sorry Cleveland).
Our friend, Earl Hicks borrowed gear from our friends in the band Hayride, from Murphy who owned the local club Tasty World and from the kind owners of the Chase Park Transduction recording facility before eventually taking out a loan and buying a multitrack digital recorder. Earl recorded our second album, PIZZA DELIVERANCE in January of 1999 at the haunted white house we lived in. Earl decided to record all of our Georgia shows that year. Those recordings make up ALABAMA ASS WHUPPIN', an ironic title, perhaps.
We had been together, as a band, for nearly three years, had built a small, but loyal following in several southeastern towns, with larger, even more loyal followings in Atlanta GA and Richmond VA. We were all working crappy day-jobs to barely pay the bills. I was working sound at a couple of clubs and doing installations of sound equipment in churches and schools, Cooley was painting apartments and houses and picking up extra cash playing guitar in a mostly-black funk cover band (Brick…House…), Rob may have been fired from The Grit by then and was doing freelance sound, perhaps some installation work himself. Brad Morgan had just joined the band, replacing original drummer Matt Lane, who we had been borrowing from his own band, The Possibilities. They were busy making their own record as well as playing shows backing an incredible songwriter named Jack Logan. The time had come for us to have our own full-time drummer and Brad had been filling in with increasing frequency so we made it official.
By March, we all quit our day-jobs and hit the road full-time. We just didn't feel like we had a choice. We had pursued it as far as we could without making that leap. Once we made the leap, there was no money to do anything else. Sometimes great things can only occur when everyone has no other choice. We could usually make enough to make the next town and do it again. Every so often, we'd straggle home, eat a home cooked meal (or not, after a while), pick up a shift somewhere for survival money, assess the damage to our domestic situations, and jump back in the van and do it all again.
We headlined Tasty World, for the annual Athfest Festival, then later in the summer recorded two shows and one sound check from The High Hat Music Club, a now defunct 350 seater that had been employers to both Earl Hicks and myself. We recorded one show at the Fabulous 40 Watt Club. Their room was way too large for the size of our draw, but they always treated us like Rock Stars even when we pulled twenty five drunks on a Friday. Soon we were drawing many more and the bar always did great business when DBT came to play. We also recorded a show at Atlanta's immortal and immoral Star Community Bar, which had once been the home to Gregory Dean Smalley, but we'll get to him later. The last show we recorded was at a tiny little Athens bar called The Caledonia Lounge. A great little room that had been the site of the original 40 Watt Club back in the 80's. It was the size bar that we could pack out at that time and the intensity of those shows certainly gave the recordings some needed adrenaline.
It was remarked on every night that we didn't sound anything like our records. GANGSTABILLY had been recorded with mostly acoustic instruments, upright bass, mandolin, banjo, pedal steel, and four-part harmonies. By PIZZA DELIVERANCE the personnel had shifted and we were already headed in a far more hard-rocking direction. We were already writing and working on what later became known as SOUTHERN ROCK OPERA and were fast becoming the kind of band that could play such, but we still had some early songs that needed recording, an earlier time that we wanted to document before moving on, so PD was recorded to capture the time before it was too late. Once we hit the road to promote that album, we were moving forward full-throttle and holding nothing back. Songs that had been recorded as country ballads were now attacked as if, well you know.
Much has been written about the links between old-timey country and modern day Punk Rock, I certainly see the logic, but it was nothing we were giving much thought to. We just had a job to do and that was the way that felt right to do it. Most of the small dive bars we were playing had bad acoustics, lousy PA systems, and small drunk audiences who mostly didn't know who we were. A nice quiet acoustic show meant having to compete with sometimes very rude crowds, but in a battle of volume, we could and would win every time. It was simply easier and more effective to beat them over the head with it. ALABAMA ASS WHUPPIN'.
This album starts with the first song of the first show we recorded. "Why Henry Drinks" kicks it off in such a way to weed out the unsuspecting that wandered into the club expecting to see a nice polite country band. "Too Much Sex (Too Little Jesus)" had been played acoustic in its original version, but here it became a raved up rocker.
We were all listening to tons of old classic soul records on the road and fell in love with Clarence Carter's rambling "Making Love / Dark Side of the Street" intro and Bobby Womack's monologue introducing "Close To You". Sometimes on those records, the introductions were better than the songs themselves. I had written "18 Wheels of Love" as a wedding present to my mom upon her wedding to my stepfather Chester. In concert, I had taken to introducing the song with a long rambling introduction that kinda took on a life of its own.
"Don't Be In Love Around Me" was an unrecorded break-up song that had been a live staple though never recorded for any of our albums. "Lookout Mountain" was a barnburner dating back to mine and Cooley's old band Adam's House Cat. It had been the leadoff track on our finished but never released album TOWN BURNED DOWN. Several years later, we rerecorded it for DBT's THE DIRTY SOUTH album.
"The Avon Lady" was a spoken vignette (set to some drunken backing that the band improvised on the spot that night at The High Hat) that was only ever done that one time. If it hadn't been captured it would certainly have been forgotten by most there (certainly by us) by the next morning.
Cooley's "Love Like This" had originally been a quiet rambling off-kilter ode to warts and all true love, but live it was a drunken anthem to the redemption of dirty love. (My take anyway, he may disagree).
"Steve McQueen" and "Buttholeville" were both rousing staples from our earliest shows (Buttholeville dates back to our Adams House Cat days). Often the nights would end with our cover of Jim Carroll Band's 1980 classic "People Who Died". I think I've covered that one in every band I have played in since I was in High School and it was a new song.
I had written "The Living Bubba" around the time DBT was first formed. It was inspired by the last year of life by Atlanta guitar-slinger and songwriter Gregory Dean Smalley. Greg had inherited the role of leader of a ramshackle little movement called The Redneck Underground, a sort of confederacy of semi-related Rock bands extolling the virtues of southern low-class living based out of a small Atlanta neighborhood called Cabbagetown. The movement's founder and original leader had been a brilliant performance artist named Deacon Lunchbox who had been tragically killed in the terrible van accident that also wiped out half of fellow Cabbagetown greats The Jody Grind (among the surviving members was Kelly Hogan, who now resides outside of Madison Wisconsin and is one of my favorite singers anywhere). Greg played in multiple bands and wrote tons of brilliant and dirty little songs with names like "State of Co-dependency" and "She's Breaking My Heart While I'm Drinking Her Beer".
Greg contracted AIDS and passed away in March of 1996, but not before playing over 100 shows in his last year. His determination to continue doing what he loved, even as he was dying, was one of our guiding principles. It still is.
Our tour began in Northern Florida, which had been one of our original launching spots. We played Sluggo's in downtown Pensacola and they were always so good to us. About four days into the tour, our 1988 Ford Econoline Van (The Freedom) began making a God-awful noise and we were all convinced that the transmission was going.
We were headed west towards Texas, but had a night at Sluggo's followed by nights in Baton Rouge and New Orleans. Convinced that our van wasn't going to make the trip and freaked out because we didn't have any money or options, Ted, a bartender at Sluggo's, offered to fix our van for free to get us on the road again. It was Saturday and the parts place was already closed, so we rented a Ford Taurus, piled all that we could into it and drove to Baton Rouge. The next day we drove to New Orleans, only to find out that our show there had been cancelled and no one had bothered to tell us.
Terry and Ted from Sluggo's caught wind of our plight and told us to drive back to Pensacola and said that they would hook us up for the night. We got back and played an acoustic show in their downstairs bar. We played until six in the morning, drinking the place completely dry. I faintly remember staggering out into the morning sunlight and Rob kicking our rental car. Soon, Cooley and Rob were wrestling in the middle of the street. The next morning, Ted was outside his house fixing our van while I was puking in his front yard.
We wrapped up recording by the end of 1999, but continued touring non-stop. By that time our domestic situations were in states of shambles, the crowds were getting slowly bigger and we were expanding into points west. It came down to stopping or continuing and there just didn't seem like any other choice. That also meant that Earl was left to finish the album, all of the post-production stuff like mixing and mastering, and he again rose to the task. He incorporated the help of David Barbe, who has since become our producer and is practically one of the band. They mixed the record and would send us cassettes of their mixes for us to play in the van and approve and disapprove. Likewise, the original cover concepts were sort of thrown together with the help of several folks who each did some fine work but it wasn't a particular cohesive whole.
We hope you enjoy the remastered, slightly improved ALABAMA ASS WHUPPIN' released in 2013. There wasn't really any cleaning up to do, as some things are much better left dirty. The new mastering, however tightens up the bottom end and restores the original mixes to their intended sonic experience. Greg Calbi is the master. This was our third album and the connecting thread between our earlier work and the band that we went on to become later. We were four-piece, stripped down, loud and belligerent. We commissioned the great Wes Freed to draw us up a new cover, tying the imagery from the original to the artwork he later created for us. It's a documentation of a period in time that I wouldn't go back to for all the money in the world, but I'm proud of the shows that we played and the songs that we wrote.
To fully capture the actual feel the environment in which this album was created, the volume must be turned as high as your stereo and local ordinances will allow, then turned up just a little bit more. Enjoy.
Patterson Hood (Athens GA. February 2013)
TRACK LISTING
1. Why Henry Drinks
2. Lookout Mountain
3. The Living Bubba
4. Too Much Sex (Too Little Jesus)
5. Don't Be In Love Around Me
6. 18 Wheels of Love
7. The Avon Lady
8. Margo and Harold
(alabama ass whuppin' banter)
9. Buttholeville
10. Steve McQueen
11. People Who Died
12. Love Like This
---
CREDITS
Produced and Recorded by Earl Hicks in Athens and Atlanta GA 1999
Mixed and Compiled by David Barbe at
Chase Park Transduction
, Athens GA. (Summer 2000)
Mastered by Greg Calbi at Sterling Sound, NYC (Winter 2013)
Graphic Design by Jenn Bryant
DBT (1999 - 2000 edition)
Mike Cooley - Vocals and Lead Guitars
Patterson Hood - Vocals and Lead Guitars
Rob Malone - Bass and B. Vocals
Brad Morgan - Drums
PLAY IT FUCKING LOUD!
RECORDINGS:
Tasty World - Athens GA (Athfest Show June 26, 1999)
Live Soundman: Tim Facok
(Why Henry Drinks, Lookout Mountain, outro)
The High Hat Music Cub - Athens GA (August 19 and September 7, 1999)
Live Soundman: Earl Hicks
(Too Much Sex, Don't Be In Love, 18 Wheels, Avon Lady)
The Star Community Bar - Atlanta GA (December 4, 1999)
Live Soundman: Scott Crocker
( Margo and Harold and assorted banter )
The Caledonia Lounge - Athens GA (November 27, 1999)
Live Soundman: Brian Sweeney
( Buttholeville, People Who Died, Steve McQueen and Love Like This )
40 Watt Club - Athens GA (July 24, 1999 and April 4, 2000)
Live Soundman: Chris Bartenfeld
( The Living Bubba and backing vocal overdubs and fixes )
All Recordings by Earl Hicks on Hayride's and Tasty World's Mobile Recorders (Teac Tascam DA-88 Digital Recorders). Dumped to 2" analogue tape, then mixed down to 1/ 2" tape and mastered analogue from tape. Thanks to Tim Facok for the outro.
All songs: Hood / Cooley, Hood, Malone and Morgan (c) Soul Dump Music / Razor and Tie (BMI) except: Love Like This : Cooley / Cooley, Hood, Malone and Morgan (c) Wayward Johnson's Music / Razor and Tie (BMI) and People Who Died by Jim Carroll (c) 1980 Earl McGrath / Jim Carroll Music (ASCAP) and Steve McQueen contains a portion of Gimme Three Steps by Allen Collins / Ronnie VanZant (c) 1973 Duchess Music
---